CBSN Denver launches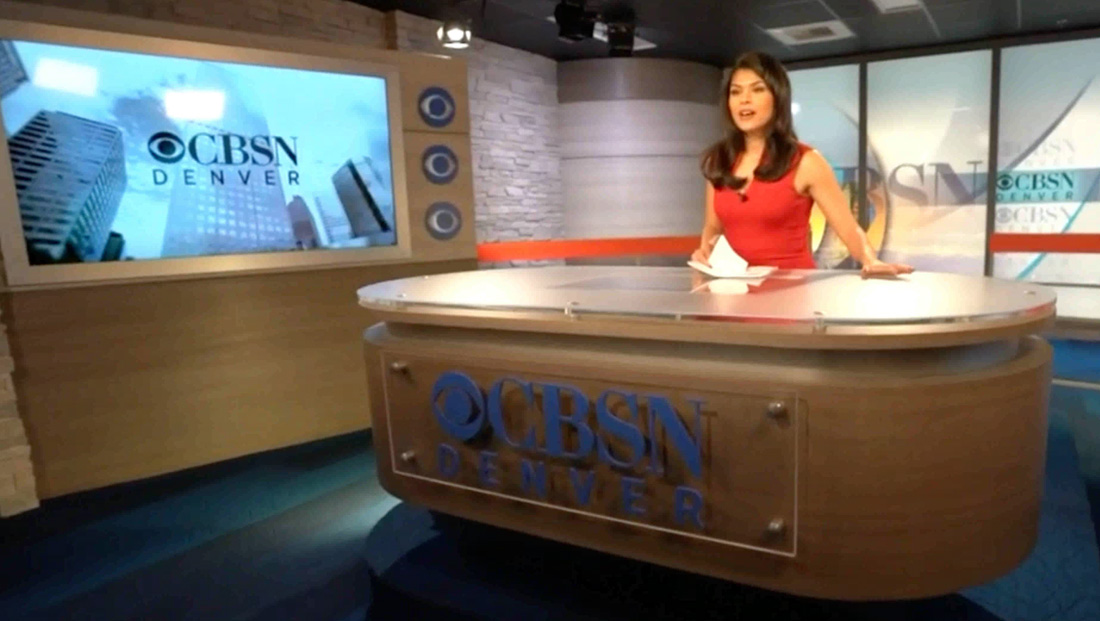 CBS's latest local streaming news network has launched in the Mile High City.
CBSN Denver, produced out of the studios of CBS owned KCNC, launched Wednesday, Feb. 19, 2020.
CBSN Denver is up & running! Teamwork makes the dream work: @CBSDenver @cbslocal @CBSi @CBSNews sponsors & tech partners! Watch online at https://t.co/Uuvl6IILHD on the #CBSNEWS app on mobile and #OTT via @Roku @AppleTV @amazonfiretv now! pic.twitter.com/cymt0pXfie

— 𝔸𝕕𝕒𝕞 𝕎𝕚𝕖𝕟𝕖𝕣 (@AdamWiener) February 19, 2020
For the new network, the station built a small studio in what appears to be converted workspace in its building — in promotional videos aired to mark the launch of the network, wide shots of the studio show it has a black drop ceiling with no grid with a handful of backlights suspended below the floating ceiling.
The set, meanwhile, goes almost entirely from floor to ceiling.
The set features a pill shaped anchor desk in the center with three vertically mounted video panels serving as the primary background.
The desk itself features a glass panel with a blue CBSN Denver logo on the front.
COMING SOON! 🌟 We are gearing up to launch #CBSN Denver at @CBSDenver and I'm so incredibly humbled & EXCITED to be part of it! 🚀💻📡 Details to come…😉#breakingnews #streamteam #fridayfeels pic.twitter.com/UQVJd4skwH

— Kelly Werthmann (@KellyCBS4) January 31, 2020
Two lighter shades of wood tones are used on the set, including on two curved walls on either side of the video array. The design also uses faux stacked stone accents.
Also on each side of the space is a large horizontal monitor on an angled wall with three blue dimensional CBS eye logos.
A bright blue carpet and red ringed railings finish off the look.
CBSN Denver is the now the seventh regional streaming network CBS has launched in markets where it owns the local affiliate.
The first was CBSN New York in December 2018, followed by CBSN Los Angeles, CBSN Boston, CBSN Bay Area and CBSN Minnesota, all in 2019.
CBSN Philly launched in January 2020 and CBSN Pittsburgh is scheduled to launch later this month, with Chicago, Dallas, Miami, Sacramento and Baltimore to come.