CBS News Detroit launches local newscasts with streaming-first mentality, authenticity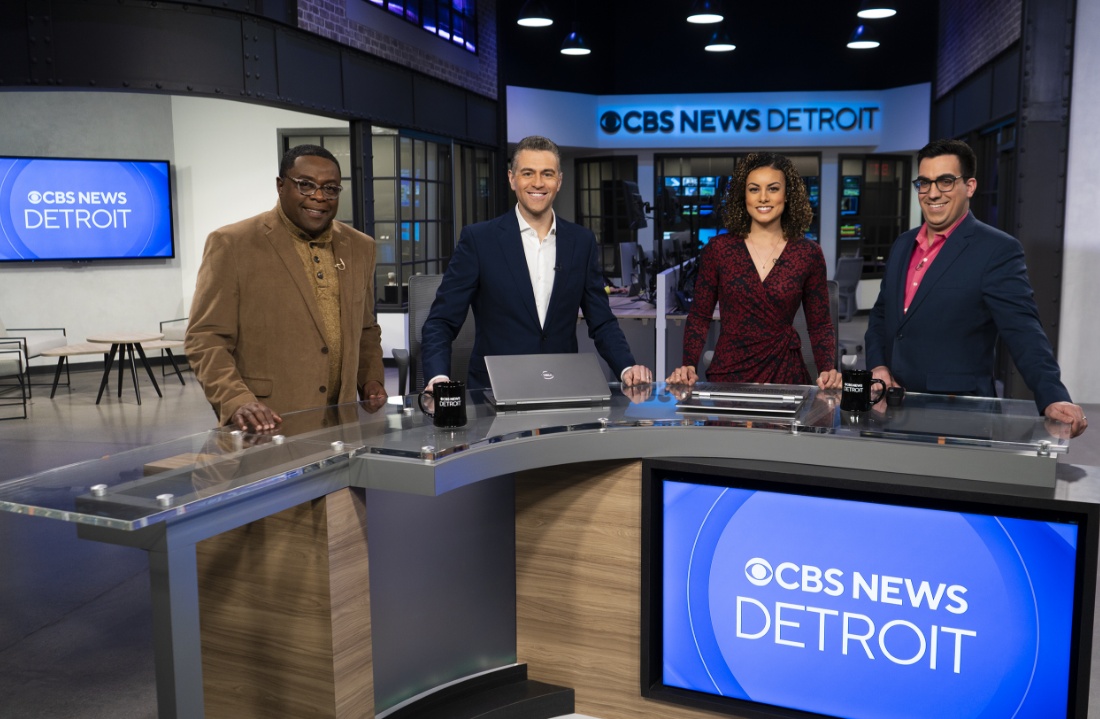 Subscribe to NewscastStudio's newsletter for the latest in broadcast design, technology and engineering delivered to your inbox.
First on NewscastStudio: After decades without a traditional news department, CBS News Detroit is set to launch local newscasts at 6 p.m. on Monday, Jan. 23.
The return to air comes after a year of planning and building at WWJ, which had operated as the only "big three" network-owned station not to have a significant local news department.
"This is a market where viewers want local news, they consume it, they look to it for help and solutions," said Adrienne Roark, president, CBS Stations. "A lot of the staff were drawn to the idea of this as a startup. They want to be a part of something from the ground up," noted Roark in an interview with NewscastStudio.
With that in mind, CBS News and Stations has invested in what it's billing as the "newsroom of the future" at CBS News Detroit, focused on adaptability and efficiency. This includes leveraging technology in new ways and having journalists own their stories from start to finish.
"We were given a blank canvas," said Brian Watson, president and general manager, CBS News Detroit. "Having that creative license to look at completely new ways of how to engineer it… We have the opportunity to build this on the ground versus trying to retrofit something."
"I think what's best is that it's not really pressure, it's excitement because it's the excitement of the challenge and the opportunity that we're given by CBS. It's just unprecedented. The amount of commitment and backing that we have from CBS from all levels… It's just a community effort amongst the owned stations," said Paul Pytlowany, news director.
A different approach to local news
This rethinking of local news starts in the newsroom, which has been built with a streaming-first, agile mentality and even extends to the stories the station will cover, with a focus on solutions-based, advocacy journalism deeply rooted in each of the communities comprising the DMA.
"If we look like everyone else, we've failed," said Pytlowany. "We want to make sure that we're solution-oriented journalists, we hold people in power accountable. We're telling stories that are being discussed at dinner tables and backyards."
"It's really neighborhoods to newsrooms instead of newsrooms to neighborhoods. We're there, we get the stories that perhaps others don't," said Pytlowany.
Part of this mentality has also been on the presentation side, where the station has opted for a broadcast that places anchors next to journalists, ditching the studio for the newsroom.
"Our anchors, our assignment desk, everyone is in one room producing content together," said Pytlowany. "We're not in silos. We're multi-skilled, we're right there, making sure that we cover the stories that matter to those who are in our community."
"We want to make sure that the authenticity of the news product comes through," said Watson. "There are so many opportunities to have more than just the anchors on camera. We're going to turn that camera to the assignment desk. We're going to turn it to a producer. We have lots of exciting plans in place for how to bring news in its most authentic way possible to the viewers of Detroit."
While CBS News Detroit would not discuss specifics of how many staffers have been hired for the launch, they noted the team is competitive in the market and that many jobs are still available.
These "community-based journalists" will cover the region along with the state capitol in Lansing, working from customized Ford Bronco's built to serve as a mobile newsroom. These vehicles, which join the Next Weather Tracker, include a dedicated edit space along with two cameras and a mini switcher.
Technology to enable efficiency


On the technology side, CBS News Detroit has invested in a new production control room powered by Sony's ELC newsroom automation system, with Sony also providing the switcher and studio cameras. In the field, journalists will use LiveU bonded cellular technology for transmission with integration into the LiveU Matrix to share feeds with other owned stations.
Grass Valley's Edius and AMPP Editor is being utilized for editing along with its accompanying media asset management solution. Avid tools are serving as the newsroom management solution.
Graphically, the station is utilizing the new motion graphics and branding package that first debuted in Dec. 2022 at KPIX, built on Chyron Prime.
Relaunching to the local community
"First we launch, first we show up," said Roark. "Then we continually add the dayparts. And then it is the marketing and the branding and the constant reinforcement of who we are in the mission."
"Our focus out of the gate is, hello, we're here. That we've been listening to you and we're going to continue to listen to you as we evolve and shape our brand and our identity," said Watson.
In the past year, the station has conducted research with third parties and has been listening to the community to build a newscast focused on them.
"As we build our day parts, so will the marketing," noted Watson.
CBS News Detroit will begin with evening newscasts on weekdays, expanding to other dayparts and the weekend in the coming weeks. The station aims to hit 40 hours of news output across dayparts along with its around-the-cloud streaming platform.
"There was a moment in rehearsals over the last couple of weeks where I just caught myself realizing that months of work, collaboration, problem-solving, just finally came to fruition. And I just was looking around and really taking it in. It was an amazing moment. And then very quickly I snapped back into reality that there's work to be done still," said Watson.
"It's the most exciting time in a lot of people's careers here. And you can feel the excitement building even further than it has from the first time we found out we were going to relaunch news here," said Pytlowany.
The latest in design, production and engineering
Subscribe to NewscastStudio for the latest delivered straight to your inbox.