The judges have spoken: These sets are 2015's Sets of the Year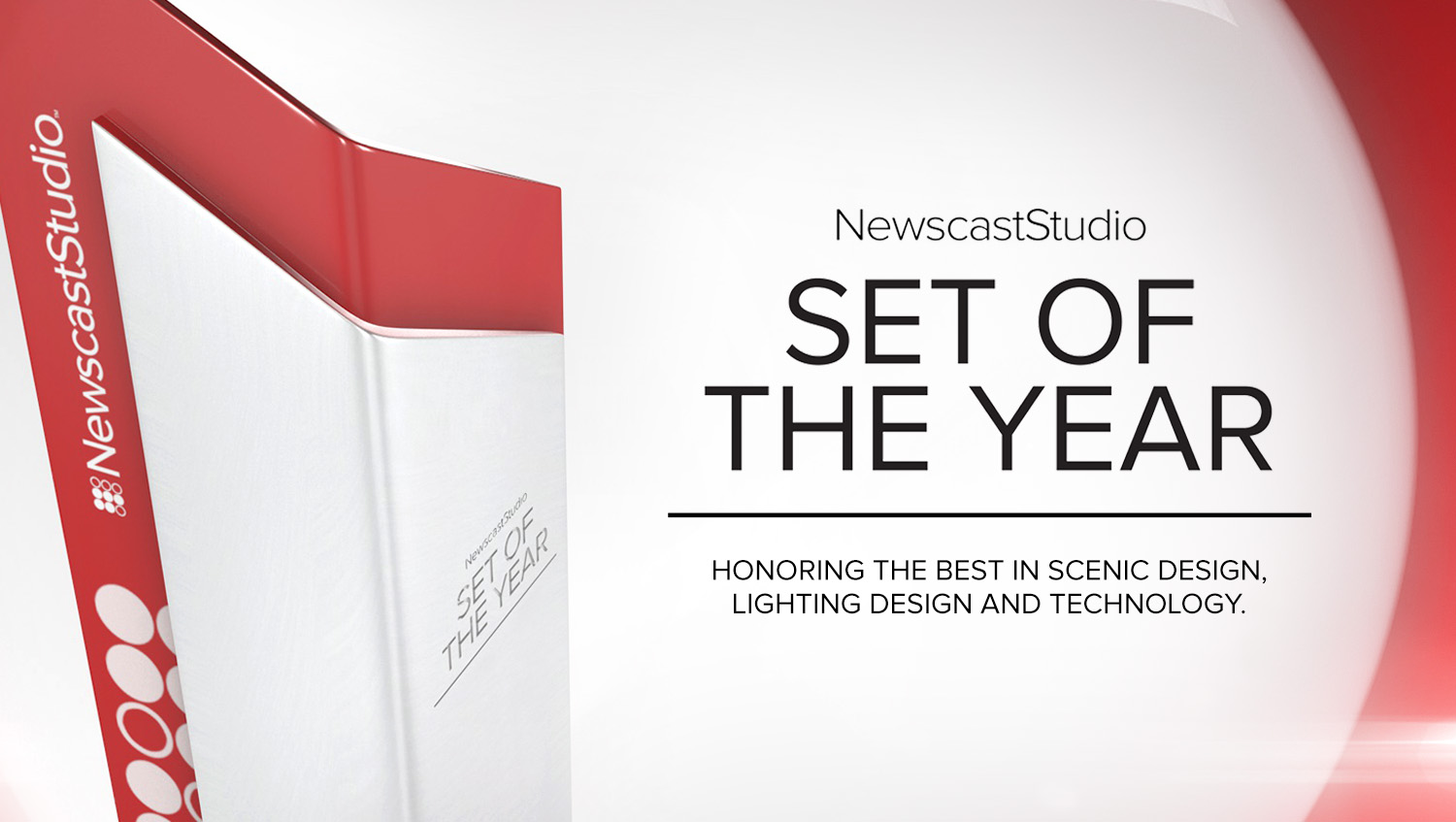 With some of the narrowest margins seen in the annual Set of the Year competition, NewscastStudio has announced its judges' picks for 2015 Sets of the Year.
Winners in each category scored the highest combined points total, based on our judging criteria of overall visual aesthetics, flexibility of design, use of technology and creative use of perceived budget. Honorable mentions scored within 10% of the top finisher in each category.
And now, without further ado, here are the 2015 winners:
National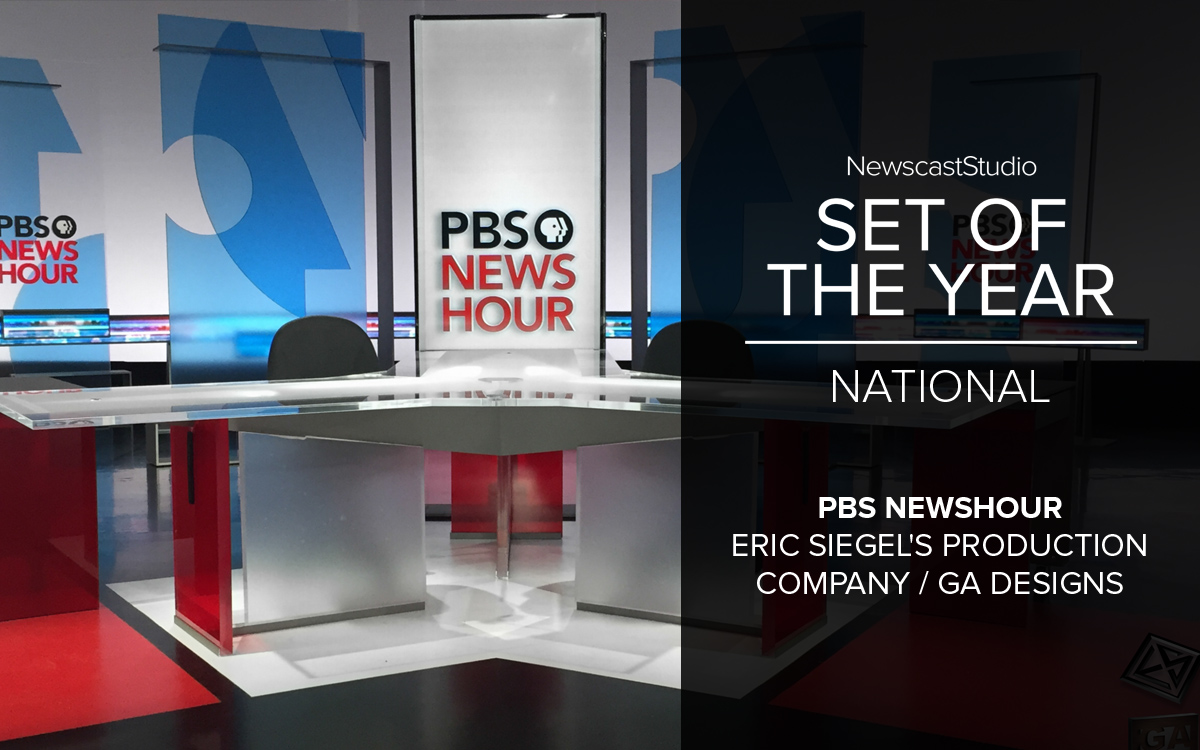 Taking top honors in the national category is the set for "PBS NewsHour," designed by Eric Siegel's Production Company and George Allison Design, features a unique design centered around freestanding panels that creates a clean, layered look.
Judge comment: "This set stands out for its very unique aesthetic that has not been seen before in national news. While it may appear decidely simple, the set includes many layers."
Honorable Mention: CNN's Presidential Debate set by Clickspring Design
International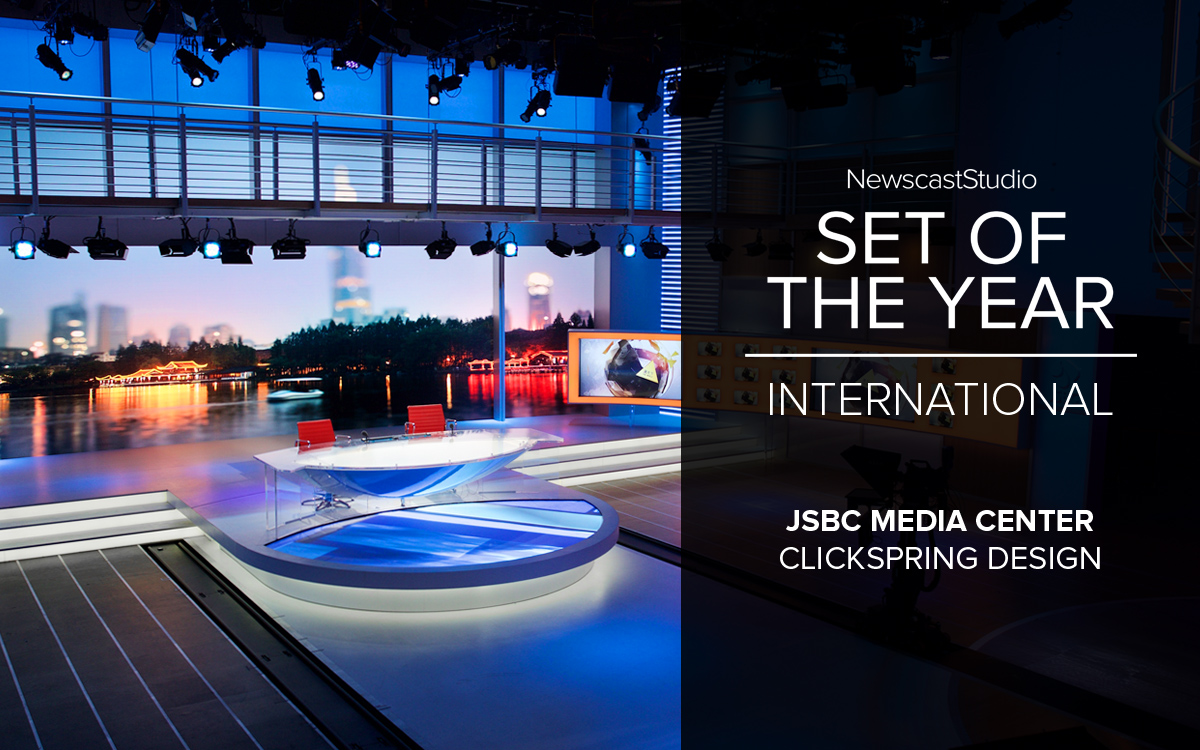 Jiangsu Broadcasting Corporation's 6,500-square foot JSBC Media Center set in Nanjing, China, featuring a 40 by 16 foot video wall, balcony and staircase with integrated curved LED video pillar and "floating" anchor desk, was the judge's pick for the international category. JSBC's set was designed by Erik Ulfers' Clickspring Design.
Judge comment: "The two story video wall gives this set a great sense of space. Really like the way it's shot on-air with the robotic cameras."
Honorable Mentions: Kompas TV by Broadcast Design International and TV4 by Jago Design
Sports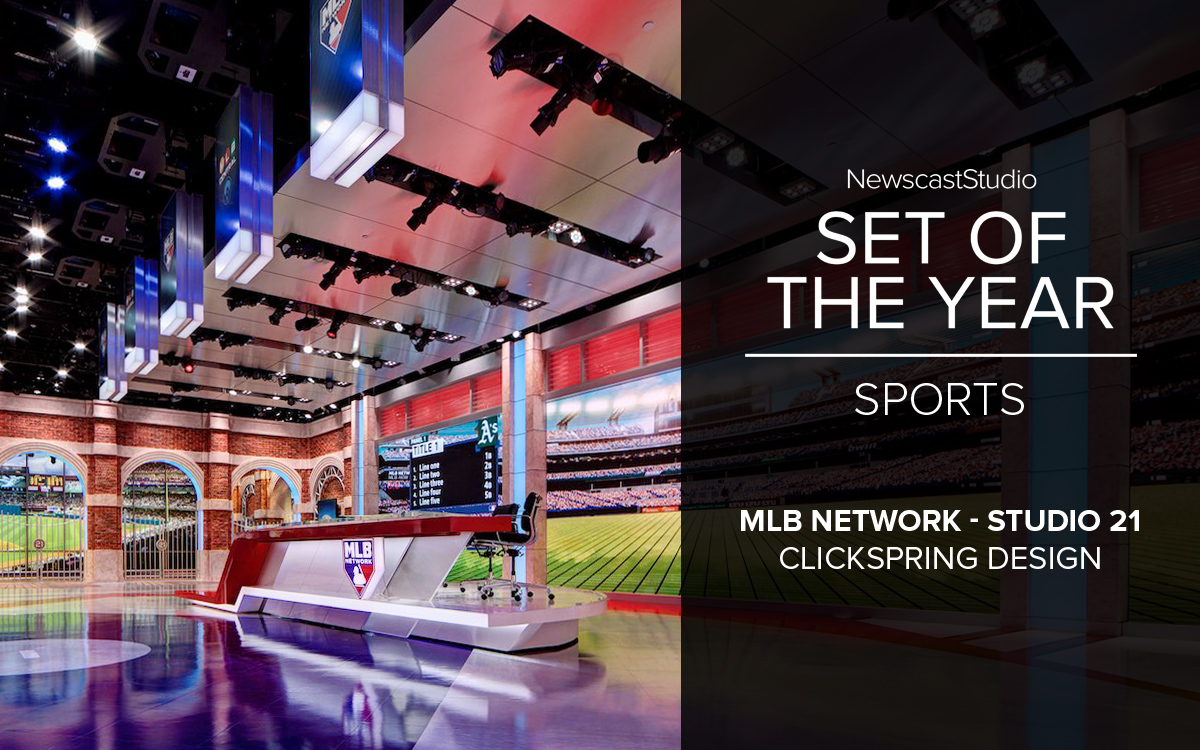 In the sports arena, MLB Network's Studio 21, also from Clickspring Design, came out the winner. This set includes movable, suspended video panels mixed with stadium inspired archways that remind viewers of baseball's great stadiums, while paying homage to hall of famer Roberto Clemente, who wore the number 21.
Judge comment: "The floating video panels provide a unique element that helps set this project apart, along with its great connection to baseball through many small details."
Honorable Mentions: 'NBA on TNT' by Jack Morton PDG, CBS Sports Studio 43 by Jack Morton PDG and FIFA Women's World Cup on Fox Sports by JHD Group
Local News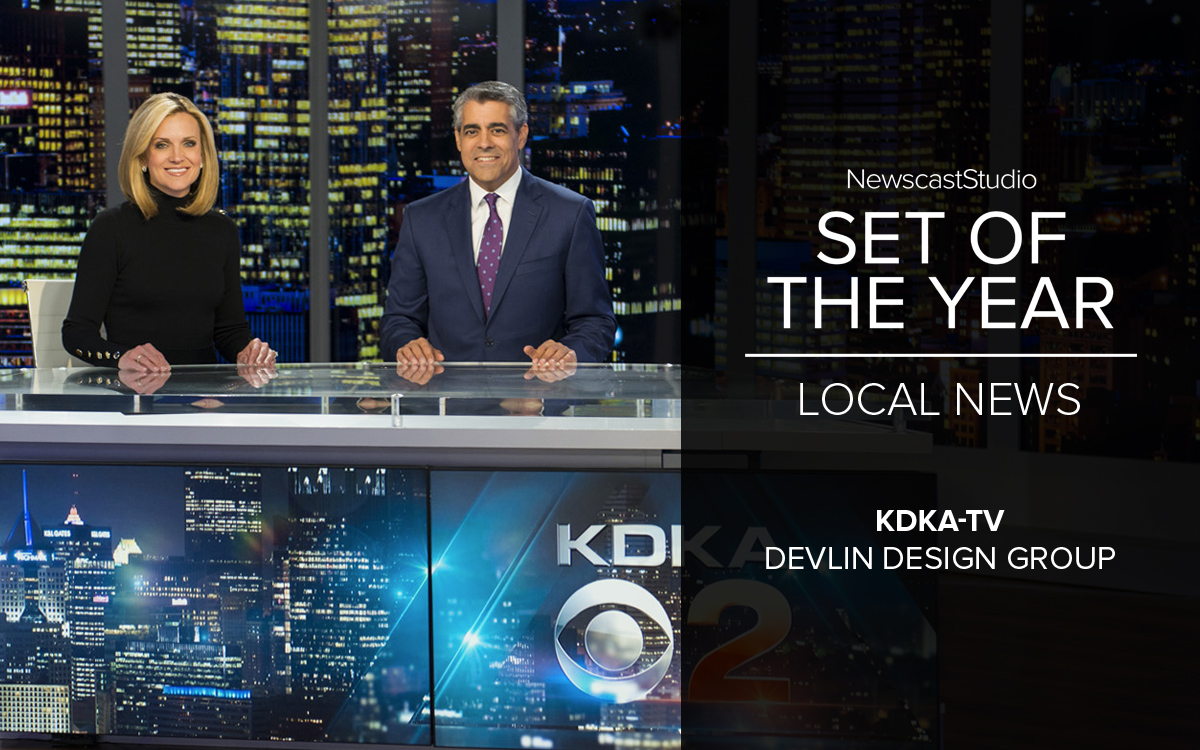 Local television stations faced tough competition this year, but Devlin Design Group's set for Pittsburgh's CBS owned and operated affiliate KDKA-TV ended up the winner with the panel, closely defeating projects in Orlando and Los Angeles. Judges gravitated toward the set's open design with vertically mounted flat screens creating the illusion of a large window into the city.
Judge comment: "Lots of technology, yet still warm on-air."
Honorable Mentions: WFTV-TV by Z Space Creative, WOFL-TV by FX Design Group and KABC-TV by Broadcast Design International
Entertainment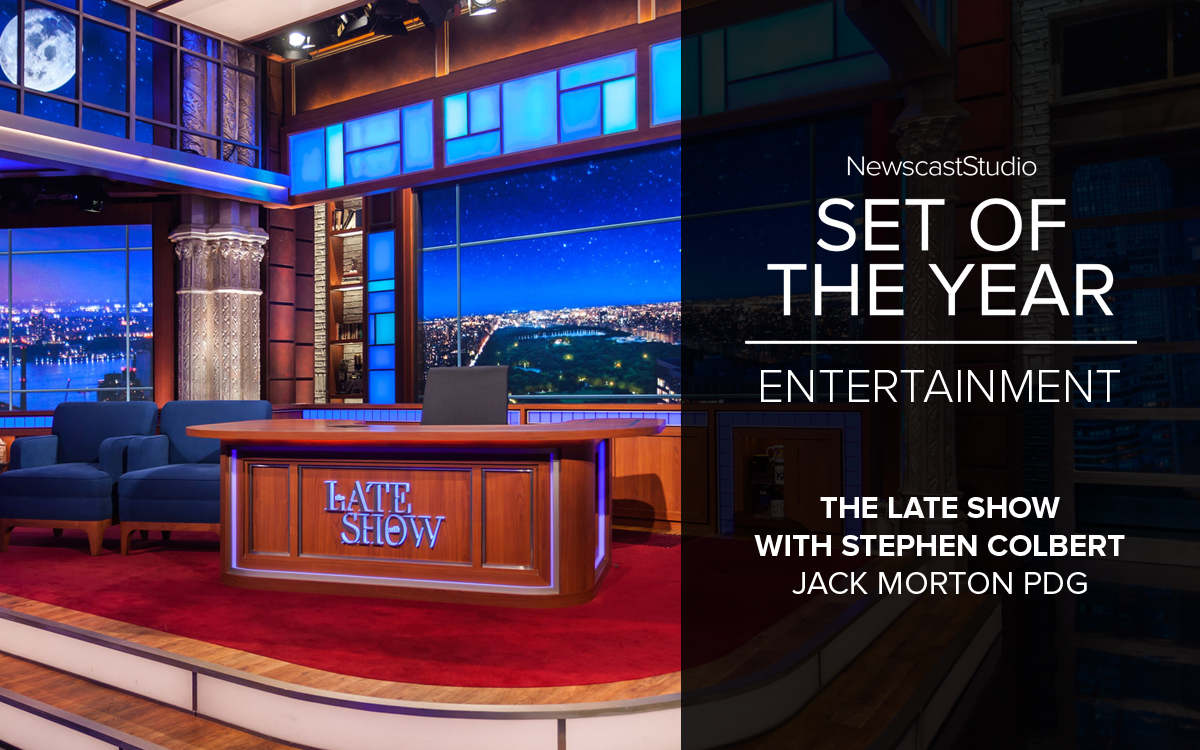 On the entertainment side, CBS's "The Late Show with Stephen Colbert" is taking center stage as the winner of this competitive category. The bold, blocky design, created by Jim Fenhagen's Jack Morton PDG, combined architectural aspects inspired by the show's home while revealing new elements through a major renovation of the historic Ed Sullivan Theatre space.
Judge comment: "A great renovation of a historic space, with so many elements to take in." 
Honorable Mention: "The Daily Show with Trevor Noah" by Jack Morton PDG
Webcast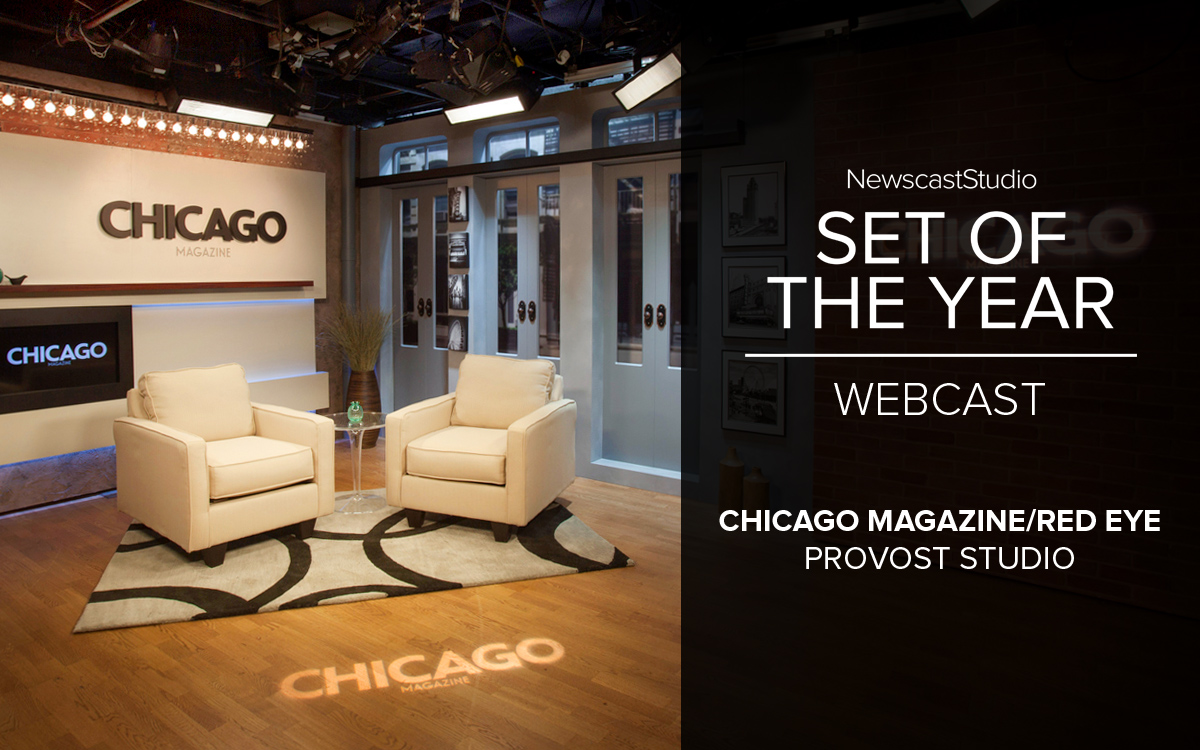 Finally, the competition's newest category, Webcast studio design, saw the win go to Chicago Magazine and Red Eye's studio, designed by Provost Studio. The design combined an urban feel with architectural elements for a smaller scale but high impact space that provides flexible for Tribune's publications.
Judge comment: "Flexibility is key to this webcast studio, while having a presence of Chicago." 
Honorable Mention: Kim Komando by Innovative Show Design
About the Awards
Each of the winners will be honored with a custom designed metal trophy, first introduced with last year's competition.
The Set of the Year competition, completing its seventh year of honoring the best in broadcast design, has quickly become one of the top and most coveted honors in the broadcast design industry and its winners often foreshadow work that goes on to win other recognized awards.
NewscastStudio is also already in the planning stages for the 2016 Set of the Year honors, which are slated to include new categories for lighting design and the rapidly evolving field of virtual and augmented reality set design.
Judges
A special thanks to our panel of creative judges:
Chad Cook, vice president of creative services at Stephen Arnold Music
Jon Fox, executive creative director at Hothaus Creative
Ing. Jose Maria Noriega C.A.S., CMO commercial and marketing director at Fluotec Lighting