CBS News previews its debate stage set design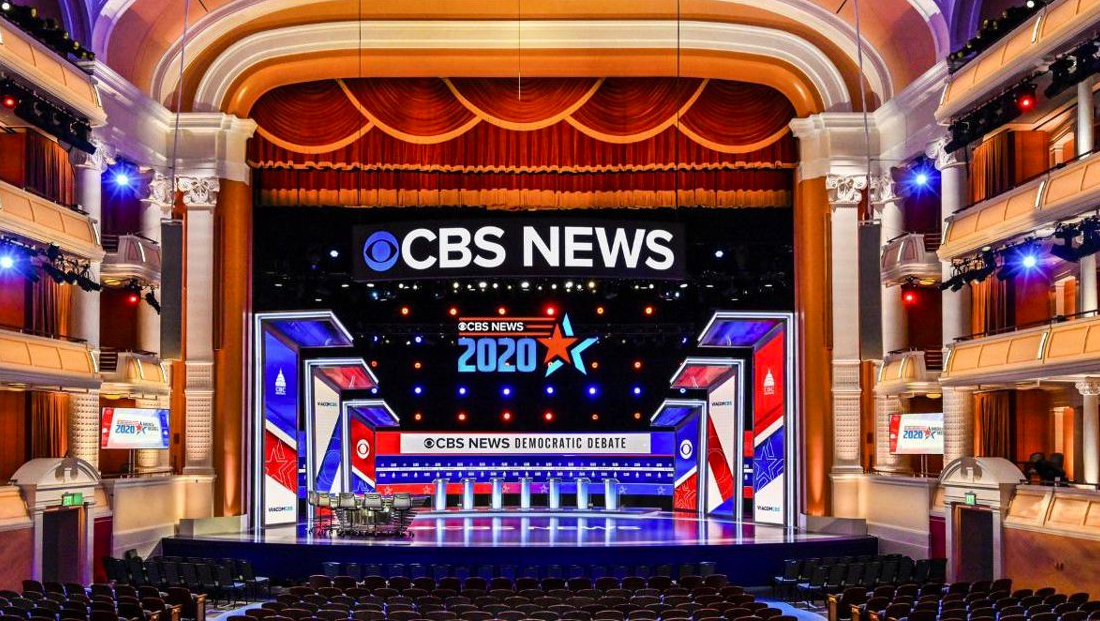 CBS News introduced its debate set on Tuesday, Feb. 25, 2020's "CBS This Morning" — and the look, like others used this cycle, relies heavily on LED panels but also adds a "forced perspective" look.
Co-anchor Gayle King, who is one of the primary moderators for the event, kicked off the newscast from the stage of the Gaillard Center Performance Hall in Charleston, S.C. with Anthony Mason and Tony Dokupil back in Studio 57 in New York.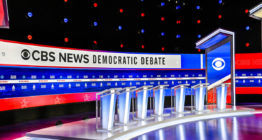 Set Design
CBS News Democratic Debate
View a gallery of this project…
The stage design was created by Jack Morton Worldwide and South Carolina native Jim Fenhagen.
The debate represents CBS's first outing with a primary debate.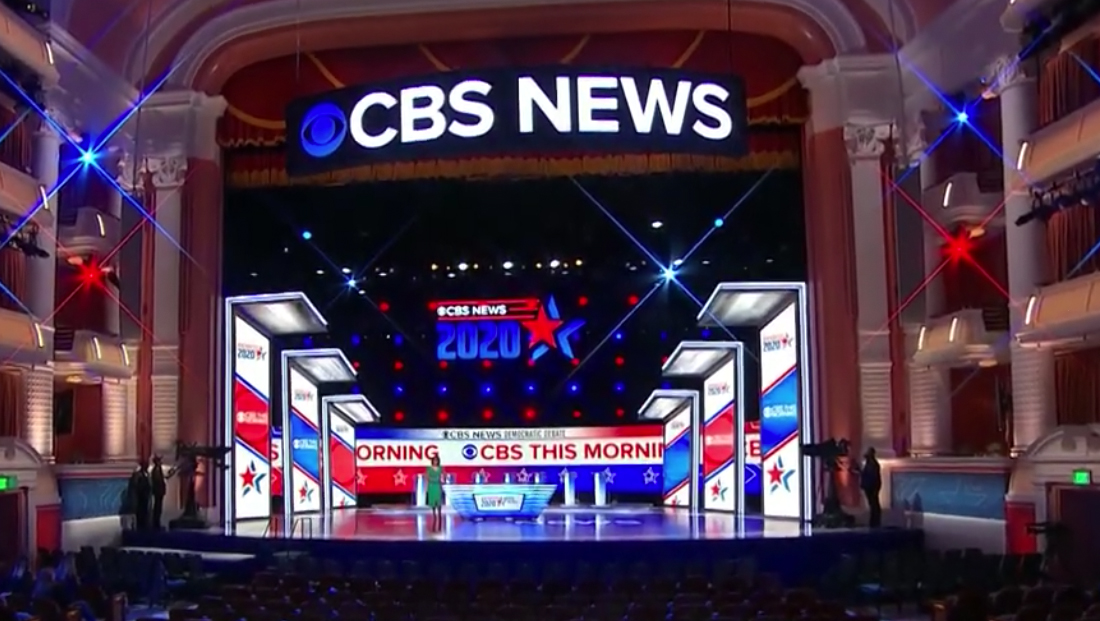 The design features a curved video wall along with a total of six upside down L-shaped LED elements on either side of the stage.
Above the video wall is a collection of red and blue lights and, suspended high above the stage, the CBS News "America Decides 2020" logo — though sans the "America Decides" part.
In front of the stage is a giant "CBS News" banner suspended from the ceiling.
In a photo released by CBS, the primary video wall with the typically "step and repeat" style collection of debate partner logos — in this case CBS and the Congressional Black Caucus Institute.
Above this is a "CBS News Democratic Debate" banner on the LED.
Meanwhile, the six "column" elements sport angled graphics that emphasize the perspective of the stage's depth.
Overall, the sharp right angles and linear elements echo the design used on the new "CBS Evening News" set in Washington, D.C. as well as 3D virtual set extensions on "Face the Nation," which shares the studio.
The seven internally lit lecterns feature an angle top and bold vertical lines.
Those lines repeat, in horizontal format, in the moderator desk, which looks a bit like polygon that stars narrowed near the floor and flares out near the surface of the desk.
During "This Morning," King started standing on the left side of the desk and had a debrief style exchange with correspondent Ed O'Keefe, who was also standing in front of the desk.
The pair then moved to sitting behind the desk after a package.
On Monday, King anchored her portions of "This Morning" from inside of a temporary broadcast boost set up outside Gaillard Center.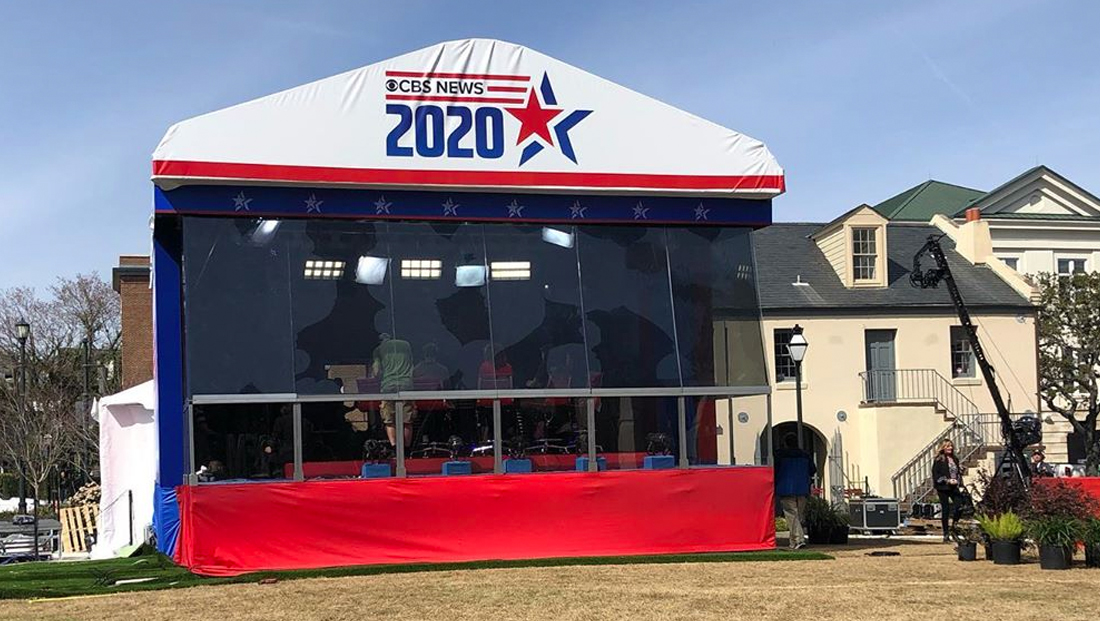 The booth was also used by Norah O'Donnell for "CBS Evening News" on Monday night.
Visible behind the booth are CBS News branded banners on light posts that used the same angled motif on the debate stage's side panels.
The booth itself is outfitted with a large anchor desk with a similar horizontal banding effect and "America Decides" branding in a polygon on the front.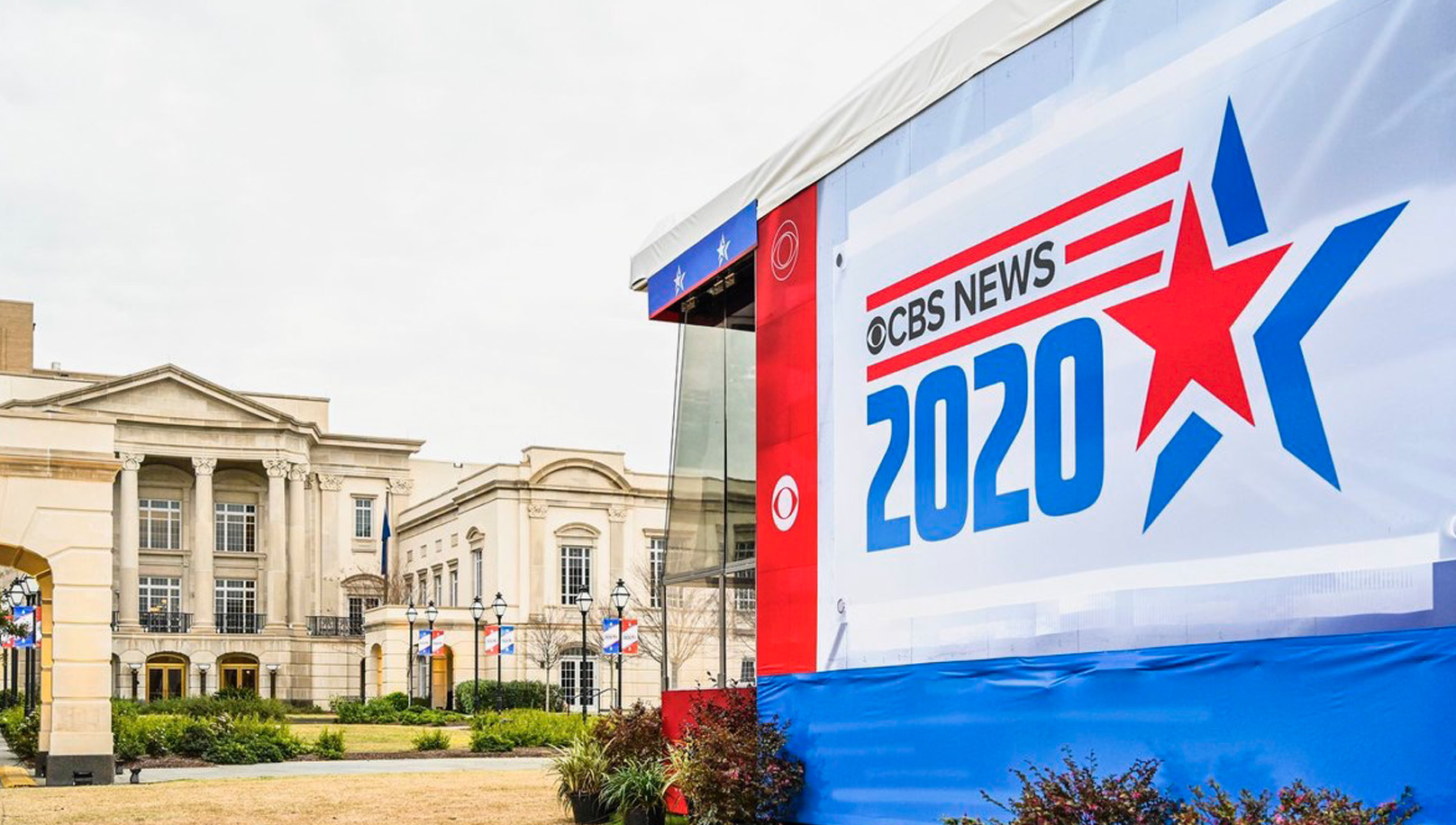 The exterior is wrapped in oversized CBS election branding.