Network newscasts mix things up for Mueller Report coverage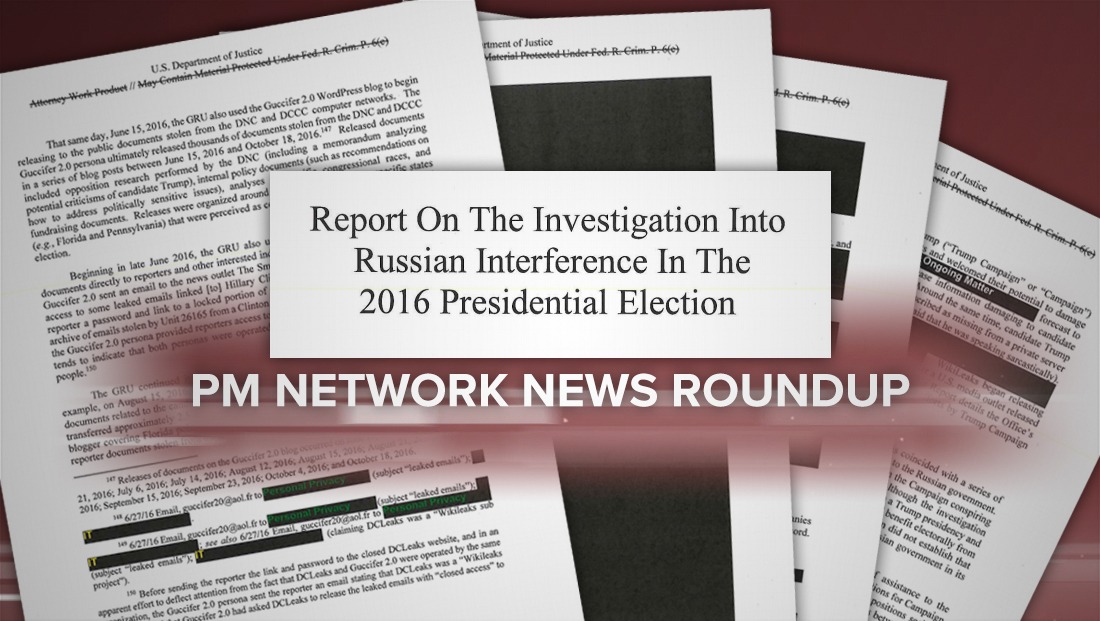 After a busy day of multiple special reports and rolling coverage on cable, the release of the Mueller Report lead the U.S. network newscasts, who continued to use the designs first introduced when the special counsel released the report to the Justice Department.
"NBC Nightly News" opted to mix things up a bit and moved its anchor desk into the vista video wall alcove, which allowed anchor Lester Holt to hold up to clipped piles of printouts — the full report — as a sort of visual aide.
On the video walls behind him was an array of the network's Mueller Report look — including the sans serif logotype with a red "breaking news" label under it camera right.
The broadcast also continued the use of the "ripped page" look in fullscreen graphics containing excerpts from the report and other key points and illustrations. The network also added typewriter style text with yellow highlights.
"Nightly" introduced a new approach to OTS graphics last week and had also been shooting the set differently, with this alcove being used less.
During the remainder of the broadcast, Holt staid in the same area with the old-style OTS graphics used for other stories.
"CBS Evening News" also relocated its anchor's starting point for its coverage of the report release.
The broadcast, which had relocated the anchor starting position in Studio 57 in mid-March, had anchor Jeff Glor standing in between two of the studio's video walls, one showing a New York City skyline, the other used to show both the show's logo and the network's Mueller Report logo and look — and a vertical panel used for the date.
Meanwhile, the broadcast used a variety of animated infographics that used the blue-gray style the network first introduced for the March release — though this time a yellow highlight with the word "released" was featured in most.
"ABC World News Tonight" did not change how it shot its set, but, like its counterparts, used animated fullscreen graphics to showcase excerpts from the report.
These graphics were combined with the broadcast's normal microtext accents as well as ghosted text from report and photos in the backgrounds.
The latest in design, production and engineering
Subscribe to NewscastStudio for the latest delivered straight to your inbox.