Man allegedly threw two rocks at WABC's studio windows during live noon newscast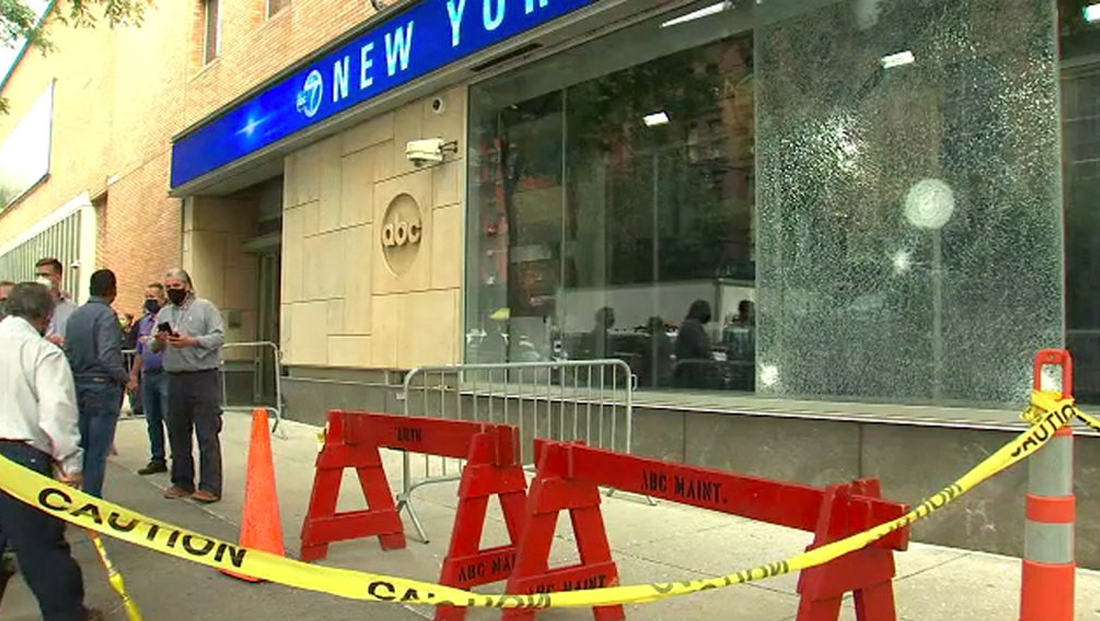 Talk about breaking news. A security camera caught images of a man who threw two rocks at the large windows the enclose the main news studio and set of WABC, the flagship ABC owned station in New York City — all while the station was on the air.
The incident happened in the middle of "Eyewitness News at Noon."
By the next morning, NYPD released three images taken from surveillance cameras showing the alleged perpetrator.
None inside or outside the studio was hurt in the incident.
WABC debuted the windowed studio at the corner of 66th Street and Columbus Avenue in 2011 after moving out of a studio it shared with "Live!" k
The video wall heavy set was updated with seamless LED panels eight years later.
WABC shares a building — that has the address of 77 West 66th Street as homage to its Channel 7 assignment — with various other ABC operations, including studios for ABC News, "The View" and "Tamron Hall," but none of these spaces have external windows.
ABC will be moving most of its operations to Hudson Square in the next few years.
Most windowed TV studios are equipped with special glass that is reinforced to prevent objects such as bullets or, in this case, rocks.
In images shot by WABC, one panel has been almost completely cracked with what appear to be two large impact "craters" visible. Most likely the glass is laminated to prevent it from sending glass flying in the event it doe shatter — either by accident or as a result of vandalism.
Windowed TV studios have been a popular trend for TV stations, though they're not always consistently used.
One of the most prominent examples is probably NBC News' Studio 1A in Rockefeller Center (which is often credited for making windowed studios popular) — a high profile attraction that has had a handful of flashers and other off color incidents over the years. In 2013, the studio had to cover its windows during the broadcast after a stabbing took place out on the plaza.
Most windowed studios have a way to cover the windows in cases like this or when they prefer not to have people milling around in the background.
There can be set pieces that roll into place to block the view, roll down "shades" or even special glass that go from clear to translucent with the flick of a switch.
In addition to "Today," ABC News also has a Times Square location that's been used for "Good Morning America" as well as "Strahan, Sara and Keke" and ABC and ESPN sports productions over the years.
Most of the first floor windows are blocked by set pieces so the show tends to spotlight crowds gathered outside by taking a camera out on the street. The second floor studio providing sweeping views of Times Square, though there's less risk of lewd or violet behavior taking place behind the anchors because of this.
"CBS This Morning" had originally planned to have a windowed workspace overlooking the street for "CBS This Morning," but structural issues didn't make the possible. However, the studio does have smaller window that mostly captures cars and people going by — as well as an additional window that is visible when the "barn door" to the right of the primary video wall is left open.
High profile local stations that have used windowed studios include WMAQ and WBBM in Chicago, both of which have since been shuttered (obituaries here and here).
KHOU in Houston has an ancillary studio as does WTVD in Raleigh. WFAA in Dallas broadcasts from a local sports and mixed area complex (a look that was updated in 2018).
WTVD's studios were damaged during protests earlier this year and "Today" built a temporary wood wall to protects its windows as well.
In 2007, WLS in Chicago, which still uses its windowed studio today, was on the air with a weekend newscast when a minivan drove through a portion of the studio windows overlooking State Street.
All in all, because of the high profile nature of the streetside TV studios as well as the millions of dollars in equipment, set and video displays often inside, TV stations tend to be highly vigilant of keeping these spaces under the watchful eye of security cameras.
WLS, for example, even has small signs in prominent locations reminding passerby and would be pranksters that the areas is under constant video surveillance.
The latest in design, production and engineering
Subscribe to NewscastStudio for the latest delivered straight to your inbox.